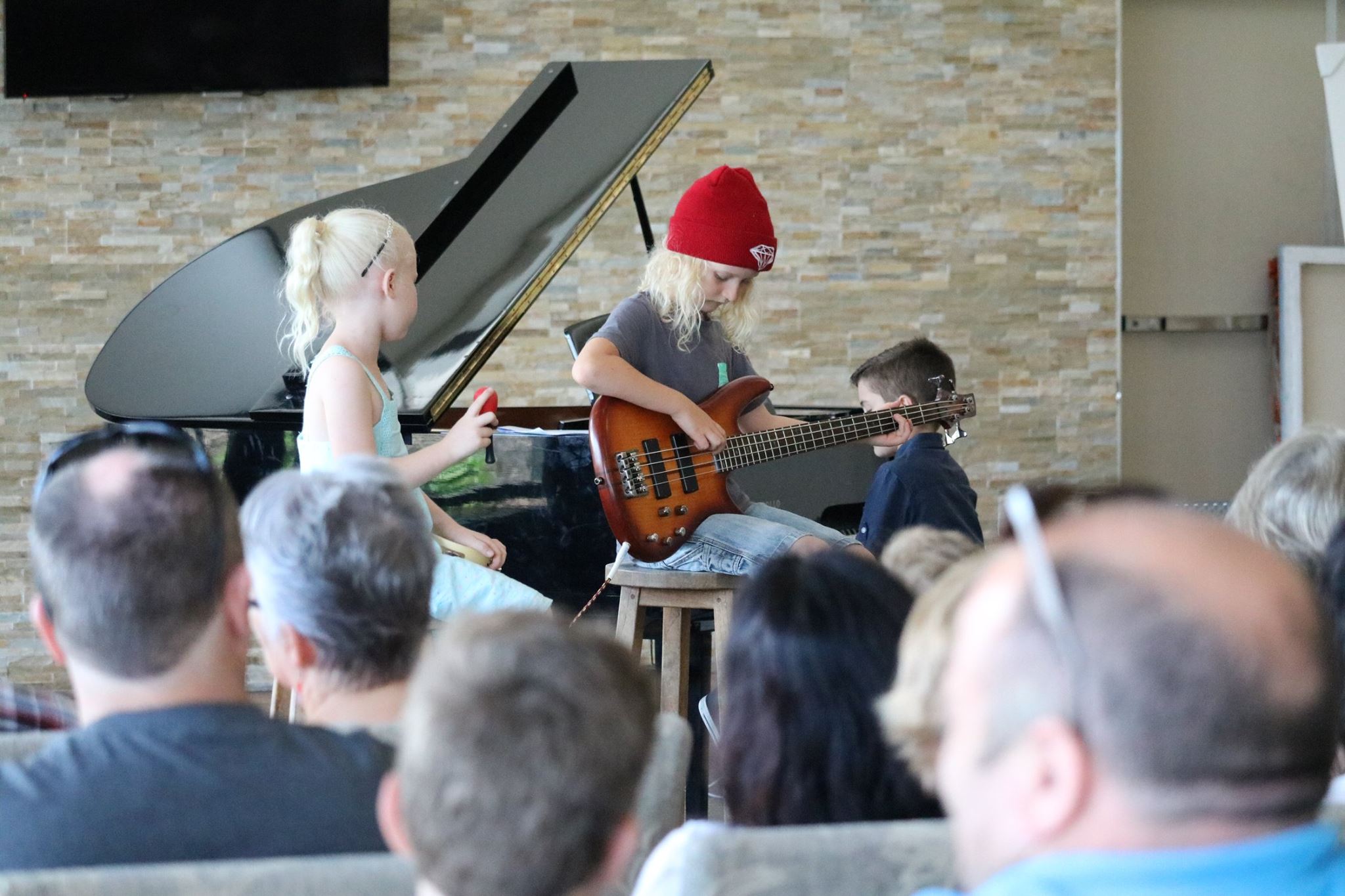 Seddon Music exists to enrich lives through the gift of music.
We love sharing music with our students and watching the capacity of each individual grow as they learn how to play their instrument, having a stack of fun along the way.
Our unique curriculum that Glenn has developed over 25 years of teaching develops the entire musician (and even person) as we develop our listening skills, our reading abilities, our musicality/understanding and performance/improvisation.
We sum it up as ears, eyes, fingers, knowing and action.
Students will gain confidence as they compose their own pieces, perform the classics and well known and popular music too.
Enrol today in our Rock Band Program which is fun, motivating and teaches rhythm and musicality in a way that individual lessons cannot do. I've completely rethought the approach on group lessons and and we has seen incredible success. These lessons can replace individual lessons as technique, reading, theory as well as playing by ear and using chords are all covered. All bands have exclusive access to our online videos we've created too, that cover individual things that we don't have time to do in class. Best of both worlds. It's $26 for the 40 minute lessons and access to our online videos.
We teach piano, guitar, singing, drums, bass, rock and jazz bands, trumpet, trombone and more.
Glenn has taught from early childhood, kids with special needs all the way to the Bachelor of Music level and has taught multiple instruments, including brass, guitar and drums. Glenn also plays both contemporary (specialising in Jazz) and classical piano. This gives Glenn a unique understanding and approach to music.
Glenn is currently a professional musician performer and recording artist. His album 'Shooting Arrows' is currently released by the DownUnderLabel on iTunes, spotifly and all good places you buy/listen to music online. Over the years He has played with many great artists and bands including the award winning Sydney All Star Big Band, Greg Page from the Wiggles, Engelbert Humperdink, The TCB band (Elvis' Band for 10 years) and has backed the Rolling Stones.
Glenn also has a growing range of music education resources that he has created over the years and are available at his website here (seddonmusic.net).
Merryn teaches our beginner piano students and she is a natural with kids and will get your child off to the very best start. She has a passion for teaching the little ones and is a highly professional and valued member of the Seddon Music team.
Matt also teaches some of our beginner students. He teaches piano and drums and is a very talented young man. Matt is currently studying at the Conservatorium of Music in Newcastle and is a graduate of Seddon Music. A fine young man and a great role model for young people, Matt is a wonderful contributor to our team.
Josh teaches some of our young drums students and our new guitar teacher is starting with us this term.
Beth has just taken on the role of our singing teacher and is doing a wonderful job. Beth loves singing and people and is proving to be a great teacher. One of the great things about learning singing at Seddon Music is the opportunity to join bands and play with others who are learning. Sometimes learning to sing can be a very lonely task, but it really should be lots of fun and social. Whilst focusing on technique, breathing and general voice production one on one, it's also invaluable to gain experience making music with other people. Soon we also plan to launch a small choir.
Ring/text us on 0410 567 595 today to find out more or contact us through our rego form.
Spots for 2020 are limited, so best to get in fast to claim your spot.